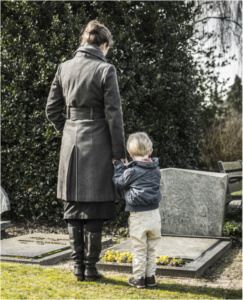 Should I bring children?
Jewish tradition regards a funeral as a very important part of the life cycle, and an important educational opportunity. There is no rule that dictates Jewish tradition about children and funerals.  Probably the one word that might guide your decision is "appropriate". This is a personal decision that may change depending upon circumstances. We have provided some guidance that may help you make your decision.
Children are naturally curious, and amazingly resilient. They will absorb as much as is appropriate for their age and level of maturity. They will ask questions; answers need not be complete, but should always be truthful. Most children are perfectly capable of dealing with such stressful situations, sometimes actually better than adults, and under normal circumstances their presence at both the funeral service and the burial is appropriate. Ultimately, however, you know your own children, and must make a decision based on what is best for them and for you.
Funerals are for the living
The funeral ritual is valuable in several ways. Funerals honor the person who died. It is a time to say goodbye to a loved one and a time for family and friends to gather in support of one another following a death. It is a time to affirm that life goes on. It is for.
these reasons it is important to consider having the family's children included in the process. Many experts agree that children can attend funeral services at a young age. They suggest that if the children are old enough to talk, they are old enough to ask if they want to attend.
Should children come to the cemetery?
As noted above, children usually deal quite well with the entire funeral experience. If it is age-appropriate and maturity-appropriate for your child, there is nothing wrong with bringing them.
What do you tell a child about the person who died?
Your personal relationship to the deceased and your views about death should be your compass. You can explain that the body of the person who died will be in a casket. The person is no longer able to talk, see, feel or breathe. This may be a time to share spiritual beliefs you have about death. You may explain the meaning behind the mourning rituals that you and your family will observe. Under no circumstances should you say the deceased is "sleeping".