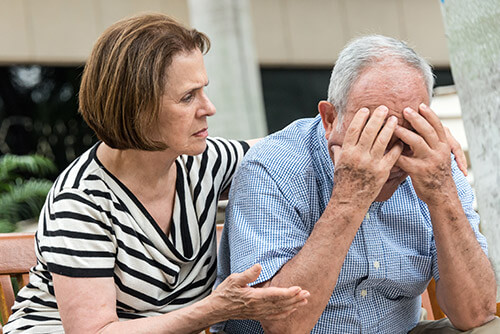 When a Death Occurs:
No matter if a death is sudden, or if it was a long time coming, the loss of a loved one make us feel emotional and overwhelmed.  No amount of preparation can fully prepare you for the loss.  When you are in a heightened emotional state, even the most basic decisions can seem staggering.  The following is a rough outline of what needs to be done within the first 24 hours after death.
When a Death Occurs at Home or at a Place of Business:
If the person was not under hospice care, the police will have to be notified immediately.  The police will be dispatched to the home and will call the coroner/medical examiner. From there the coroner/medical examiner will take the body and determine whether further action is necessary. The coroner/medical examiner must release the body before a funeral home can do anything.
If the person was under hospice care, contact the hospice representative (if they are not present) and they will let you know the proper procedures to follow.  Do not call the police if hospice is involved.
In either situation, once you have made the first call to the police or hospice, then call us.
When a Death Occurs at a Hospital/Nursing Home/Hospice Facility:
The staff of a care facility such as a hospital or nursing home will notify you and the necessary authorities immediately after a death has occurred.  If a funeral home name/phone number has been provided to the hospital or nursing home, they will usually contact them as well, at the time of death.
Informing a Funeral Home:
Once everything is cleared with the proper authorities, the next call you place should be to a Funeral Home.  Funeral directors take care of the immediate needs of transporting the body, obtaining a death certificate and in the event pre-planning was not done, help you arrange the funeral.  Their job is to help and advise you and they will work very hard to relieve the stress and logistics involved in funeral planning.
Meeting a Funeral Director:
You should meet with a funeral director within 24 hours of a death to begin to make final arrangements. Deciding on these final arrangements may seem like a very daunting task, especially when you are in a heightened emotional state, but, funeral home staff have years of experience dealing with these issues, and strive to ensure everything will go as smoothly as possible. There are often situations where it is impossible to meet in person…however, today, thanks to cell phones and computers, we are able to make arrangements seamlessly.